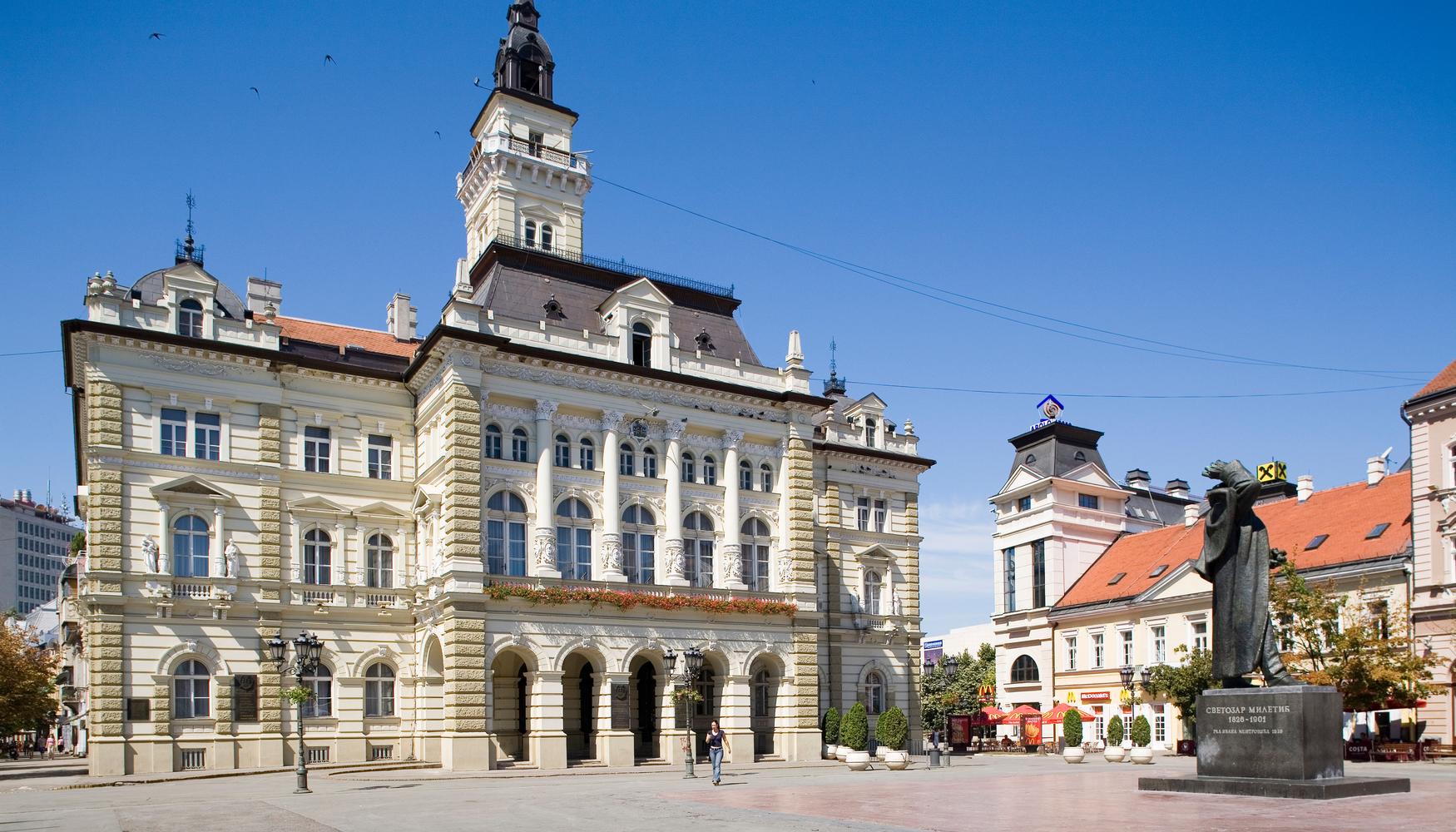 Car rental locations in Serbia
Car rental directory
Sixt car rental locations in Serbia

9 Locations See all locations

Vazduhoplovaca 24, Niš, SE

+381 658 823 786

Novosadskog sajma 35, Novi Sad, VO

+381 2154 9520

Bulevar Vojvode Misica 15, Belgrade, SE

+381 648 956 071

Vase Carapica 4, Belgrade, SE

+381 648 956 071

Arrival Hall, Belgrade, SE

+381 112 286 356

Dunavska 27a, Belgrade, SE

+381 648 956 071

Milentija Popovica 5, Belgrade, SE

+381 648 956 071

Vladimira Popovica 10, Belgrade, SE

+381 658 148 179

Kralja Milana 35, Belgrade, SE

+381 648 956 071

Europcar car rental locations in Serbia

9 Locations See all locations

Vazduhoplovaca 24, Niš, SE

+381 117 852 820

Hotel Novi SadBulevar Jase Tomica 1, Novi Sad, VO

+381 117 852 820

Radnicka 4, Belgrade, SE

+381 117 852 821

Spanskih Boraca 74Near By Main Entrance Hotel Door, Belgrade, SE

+381 117 852 820

Bulevar Mihaila Pupina 10l, Belgrade, SE

+381 117 852 822

Aerodrom Nikola Tesla, Belgrade, SE

+381 117 852 820

Bulevar Milutina Milankovica 9 Dj, Belgrade, SE

+381 117 852 820

Vase Pelagica 38, Belgrade, SE

+381 117 852 820

Tavnik Bb - Ladjevci, Kraljevo, SE

+381 117 852 820

SURPRICE CAR RENTAL car rental locations in Serbia

8 Locations See all locations

Nis Airport - Meet & Greet, Niš, SE

Nis DowntownGenerala Milojka Lesjanina 65A, Niš, SE

+381 606 007 000

Flyfly Travel Agency, Novi Sad, VO

Miroslava Prodanovica 6, Novi Sad, Novi Sad, VO

+381 602 000 200

Belgrade Airport, Belgrade, SE

Antifasisticke borbe 19, Belgrade, SE

Belgrade Hotel Delivery, Belgrade, SE

Aerodrom Morava, Kraljevo, SE

Sunnycars car rental locations in Serbia

8 Locations See all locations

Niš, SE

General Milojko Lesjanin 29A, Niš, SE

Vazduhoplovaca 24, Niš, SE

Nikola Tesla, Belgrade, SE

Antifasisticke Borbe 18, Belgrade, SE

Djordja Stanojevica 14, Belgrade, SE

Bulevar Mihajla Pupina 10Z-np7, Belgrade, SE

Omladinskih Brigada 90, Belgrade, SE

keddy by Europcar car rental locations in Serbia

8 Locations See all locations

Vazduhoplovaca 24, Niš, SE

Hotel Novi Sad- Bulevar Jase Tomica 1, Novi Sad, VO

Bulevar Mihaila Pupina 10l, Belgrade, SE

Spanskih Boraca 74, Near By Main Entrance Hotel Door, Belgrade, SE

Aerodrom Nikola Tesla, Belgrade, SE

Radnicka 4, Belgrade, SE

Bulevar Dr Zorana Djindjica 59, Belgrade, SE

Vase Pelagica 38, Belgrade, SE

Global Rent A Car car rental locations in Serbia

5 Locations See all locations

Aerodrom Konstantin Veliki Nis, Niš, SE

+381 117 852 820

Bulevar Jaše Tomića 1, Novi Sad, VO

+381 117 852 820

Aerodrom Nikola Tesla, Belgrade, SE

+381 117 852 820

BelgradeDt Bulevar Milutina Milankovica 9D - GTC41a, Belgrade, SE

+381 117 852 820

Aerodrom Morava, Kraljevo, SE

+381 117 852 820

Mega Rent car rental locations in Serbia

4 Locations See all locations

Nis airport, Niš, SE

23, PC Ambasador lokal, Niš, SE

18, Antifasisticke Borbe, Belgrade, SE

Belgrado airport, Belgrade, SE

+381 112 286 360

GREEN MOTION car rental locations in Serbia

4 Locations See all locations

Nis Airport, Niš, SE

Hotel Ambasador /Trg Kralja Milana 4, Niš, SE

+381 694 674 444

Belgrade Airport, Belgrade, SE

Antifasisticke borbe 18, Belgrade, SE

Budget car rental locations in Serbia

4 Locations See all locations

Aerodrom Konstantin Veliki Nis, Niš, SE

Generala Milojka Lesjanina 29a, Niš, SE

Omladinskih Brigada 90a, Belgrade, SE

+381 113 113 050

In Terminal, Belgrade, SE

Avis car rental locations in Serbia

4 Locations See all locations

Nis Konstantin Veliki Aerodrom, Niš, SE

+381 1852 5202

Temerinski Put 48, Novi Sad, VO

+381 216 412 700

Belgrade Airport, Belgrade, SE

+381 112 097 062

Jurija Gagarina 25, Belgrade, SE

+381 113 676 644

ADDCAR RENTAL car rental locations in Serbia

4 Locations See all locations

Aerodrom Konstantin Veliki Nis, Niš, SE

+381 605 353 000

Karaoreva 50, Belgrade, SE

Belgrade Nikola Tesla Airport, Aerodrom 59, Belgrade, SE

Aerodrom Morava, Kraljevo, SE

+381 605 335 000

Strong Rent a Car car rental locations in Serbia

3 Locations See all locations

Arrivals Hall, Niš Constantine the Great AirportNis Airport, Niš, SE

+381 353 1555 5552

Terminal 1, Airport "Nikola Tesla", counter 701, Belgrade, SE

+381 6340 5149

Ljutice Bogdana 1a, Belgrade, SE

+381 353 1555 5552
Top tips for renting a car in Serbia
Most travelers who rent a car in Serbia will want to avoid driving in Belgrade, where traffic is usually very congested and confusing. However, a lack of public transport in the rest of the country means that exploring outside of the cities is best done by rental car. Having a car opens up the possibility of visiting destinations like the southern ski resorts, the Golubac Fortress, the Tara Mountains, and Uvac National Park, not to mention the many "spomenik" war monuments scattered around the country.
It is important to note that on-street parking in Serbian cities is paid almost entirely by SMS rather than by parking meter, meaning that anyone who wishes to use this option will need to have a Serbian SIM card. An alternative option is the wide range of attended parking lots in cities such as Belgrade; these are relatively inexpensive, they accept cash payment, and they offer an added level of security.
New child car seat laws were introduced in Serbia in 2018 and now require a hefty penalty of up to 120,000 RSD (1,100 USD) if ignored. Children must be over 12 years old to be allowed to sit in the front seat of a vehicle, and all children under 135 cm (54 in) need to be restrained in an age-appropriate seat. Rental agencies can provide these when booked in advance; expect to pay a daily fee of around 590 RSD (5.60 USD) with an agency like Hertz.
Most rental agencies allow drivers to rent a car in Serbia and travel into neighboring countries, though usually not into Albania, Turkey, or Ukraine. Cross-border travel into Kosovo is also not usually permitted with a rental car. Additional fees, around 5,900 RSD (56 USD) with an agency like Enterprise, and paperwork are required by most agencies, meaning that you should always check first before traveling to another country.
FAQs about renting a car in Serbia
What is the most popular rental car in Serbia?
Standard (Chevrolet Traverse or similar) is the most frequently booked rental car type in Serbia.
What is the best rental car company in Serbia?
Based on ratings and reviews from real users on KAYAK, the best car rental companies in Serbia are Alamo (10.0, 2 reviews), GREEN MOTION (10.0, 1 reviews), and Autonom (9.6, 1 reviews).
How can I find car rentals near me in Serbia?
Take a look at our extensive car rental location map to find the best rental cars near you.
What is driving like in Serbia?
Anyone who wishes to rent a car in Serbia will find driving to be a relatively straightforward experience. Roads are well maintained across the country and include a large network of highways, which usually will require you to pay a toll of around 500 RSD (4.75 USD) by cash or credit card. Signs are usually in both Cyrillic and Latin script, and driving is on the right-hand side.
How old do you have to be to hire a car in Serbia?
Drivers need to be at least 21 years of age to rent a car in Serbia, and most rental agencies request that they have possessed a domestic driver's license for at least two years. Some agencies charge a young driver's fee for renters age 21 to 25, including Avis, where the daily surcharge is approximately 1,700 RSD (16 USD). Renters with an EU-issued driving license may need only their license and passport, but most other nationalities will need to provide an International Driver's Permit (IDP) as well.
How much does petrol cost in Serbia?
Petrol stations are plentiful in major urban centers like Belgrade, but in the rural north and south of the country, drivers may struggle to find regular fueling stations. It is important to keep the tank topped off whenever possible. Petrol prices are higher in Serbia than in many neighboring countries, costing about 150 RSD (1.40 USD) per liter of petrol and 163 RSD (1.55 USD) per liter of diesel. The equivalent prices per gallon are 5.29 USD for unleaded petrol and 5.86 USD for diesel.
What are the speed limits in Serbia?
Speed limits in Serbia vary depending on the road, but normally the limits are 40-50 km/h (24-31 mph) in urban zones and 80 km/h (50 mph) on rural roads. Highways have a maximum speed of 100-120 km/h (62-74 mph). Speed limits are clearly marked and cameras are in place.
Popular car rental locations
The rates displayed include all taxes and fees for hire cars for the class listed and were found by KAYAK users in the last 24 hours. Hires are subject to change and may not be available on all hire cars listed or dates of travel. Some hire car providers charge additional fees for other services (GPS, infant car seats, etc.). Please check the hire cars providers' sites.