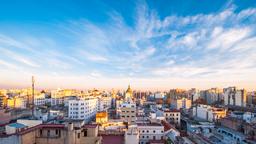 Hotels near Ministro Pistarini airport
Search hundreds of travel sites at once for Ministro Pistarini airport hotels
Best hotels near Ministro Pistarini airport
Based on 3,467 reviews
All reviews
Couples
Families
Solo
Business
Location
8.9
Breakfast
8.3
Service
8.1
Cleanliness
7.9
WiFi
7.4
Location
8.8
Service
8.7
Cleanliness
8.1
Breakfast
8.1
Room
7.1
Location
8.8
Breakfast
8.7
Service
7.9
Cleanliness
7.7
Pool
7.7
Location
9.1
Service
8.4
Breakfast
8.3
Cleanliness
7.9
Value
6.9
Location
8.9
Service
7.9
Breakfast
7.9
Comfort
6.7
Room
6.3
---
Pros:
Room is very spacious with 2 double beds. Close proximity to airport and free shuttle service.
Pros:
Location, location, location!! The restaurant and shuttle to airport! However, did not like 70.00 for extended checkout to 6 PM! Wanted an extra hour but no deal!!!
Pros:
locaton near airport with good shuttle
Pros:
Location is very convenient to the airport, with a free shuttle bus included.
Cons:
It was a bit expensive for what it was.
Pros:
Nice hotel close to the airport, but not much in the vicinity.
Cons:
I booked the 11am shuttle to return to EZE, but it did not depart until 11:15am, and the staff didn't seem at all concerned about it. When the shuttle finally pulled up it smelled like someone's pet had pooped in it; thus our delayed ride was not pleasant. Coming from the airport you must call the hotel to have the shuttle sent, even though it is supposed to leave the property every hour on the hour. Catch it at Terminal A outside the door near McDonalds, turn right, cross the street and wait next to the Tienda Leon booth.
Pros:
Short distance to airport with free shuttle to EZE.
Pros:
Food was good. Rooms clean and modern. Bed large and comfortable.
Cons:
Poor communication. I emailed twice to ask about the airport shuttle via booking.com and had no response. Ended up taking an Uber to the hotel. Check in took an hour which was really unpleasant after a long and tiring flight.
Pros:
Clean bedrooms, a spacious lobby and a good bar menu available earlier than the restaurant hours.
Cons:
Obviously times are stressful due to coronavirus. But before the front of house staff had assessed our passports properly we were told we were not able to stay at the hotel and our booking was void. I had to negotiate with two members of staff to explain why we were abiding by national law and had been in South America for over 14 days. We were health checked on entrance and our bags were sprayed - two measures of precaution I agree with. But this stressful episode was exaggerated by the staff members, and this made our stay really stressful.
Cons:
Por el valor de la tarifa, debería disponer de desayuno.
Pros:
Large suite. Water pressure great.
Cons:
Mediocre bed. No international adapters available just an inconvenient outlet. Used soap in shower. Toilet was filled with toilet paper. I choose this hotel because of the standard Holiday Inn gives, expecially when it is way higher priced than its competition.
Based on 2,021 reviews
All reviews
Couples
Families
Solo
Business
Service
8.1
Location
8.1
WiFi
7.9
Comfort
7.8
Room
7.7
Service
8.4
Comfort
8.1
Room
8.0
Location
8.0
Breakfast
5.4
Service
8.2
Location
8.1
Comfort
7.4
Room
7.0
Cleanliness
6.4
Location
8.0
Service
8.0
Comfort
7.7
Room
7.4
Cleanliness
6.4
Comfort
8.1
Location
7.9
Room
7.5
Service
7.2
---
Pros:
We only stayed one night as we were travelling back to England the next day. But the room was wonderful. It was very spacious with excellent facilities. Very modern and clean. The breakfast was also very good with plenty of choice. The staff were very pleasant and helpful. The hotel was within a shopping complex and there were many shops cafes and eateries. We did find a very good Italian restaurant on the edge of the complex. Quite a few fast food places and coffee and cakes etc too. We also had a transfer to the airport the next morning all on time.
Pros:
Service at front desk,they help us to plan our stay .
Pros:
Interesting place to stay! Great big room & bathroom Quiet & friendly. A few options for eating in the centre.
Cons:
The drive to the hotel is unusual. Rough road at the back of the shopping centre. The police car made me feel we were OK!!
Pros:
It was a short cab ride to the airport. That is the reason I booked the room. Staff got cab and that was nice.
Pros:
nothing mall attached is terrible
Pros:
Very friendly and helpful staffs. Private driver (called by the front desk the day prior) was right on time to drive us to the airport. Located near shopping center, restaurants, bar and grocery store. TV channels available in French and English. Confortable bed.
Cons:
This is more a 3 stars hotels (American standard). Room needs some refresh, very small TV. We paid more for a balcony but was not private as you share with other rooms next to you.
Based on 814 reviews
All reviews
Families
Couples
Business
Service
7.7
Location
7.5
Food
6.7
Room
6.0
WiFi
6.0
Service
7.8
Room
5.6
Breakfast
2.2
Location
7.5
Comfort
5.6
Room
5.2
---
FAQs when booking a hotel near Ministro Pistarini airport
How much is a cheap hotel near Ministro Pistarini airport?
How much is a cheap hotel near Ministro Pistarini airport for tonight?
How can I find hotels near Ministro Pistarini airport?
Where to stay in Buenos Aires?
Our Heatmaps tool will help you find the perfect place to stay in Buenos Aires by showing you how close hotel options are to major activities
Accommodations
Airports in Buenos Aires
Landmarks in Buenos Aires
Neighbourhoods in Buenos Aires